Andrew Johnson – ad.johnson@ntlworld….
18 Feb 2018 – Updated 11 Mar 2018
This question comes up fairly regularly, and the answer is "we don't know for sure." However, I thought I would post a few images here to summarise what Dr Wood (and to a lesser extent, myself) has/have come across in the last few years.
One observation that Dr Wood made quite a few years ago is regarding the destruction of the Alfred P Murrah building in 1995. It also may have involved some type of energy weapon. The damage it experienced was quite similar to that experienced by WTC 6.
One picture of the inside of WTC6 and the other is the Murrah Building in OKC. Can you tell which is which? (Hint: one of them has a wheatchex at the bottom.) from: www.drjudywood.com/#…
Also of note were cars near the OKC building[i]:
Also of note is the state of the OKC site in 2017:
Alfred P Murrah Building – Memorial – A Water Feature. There is a water feature now on the site of the WTC towers.
A while back, we discussed if the weapon system was used again in Syria, at a site alleged to be one being used for some type of nuclear testing or development:
Satellite images from Aug. 10 and Oct. 24 by DigitalGlobe
Satellite imagery of a facility in Syria collected on August 10, 2007, left, and October 24, right.
Also, there was the attack on the Khobar towers in Saudi Dhahran Arabia in 1996:
The damage to the building has some similarities to that in WTC 6 and the APM building.
Another interesting reference, which might be relevant, is in a series called Bright Skies by Harry Mason (a geologist). There is a YouTube video of a lecture he gave in 2010, but it has poor sound and picture quality, unfortunately. Somewhat better is a 10-minute segment from an ITV documentary, made in 1997. These are included below.
NOT at Tianjin (China, 2015)
Some people have asked whether the enormous damage at Tianjin was caused by a use of the weapon, but this seems most unlikely. People "latched on" to the many, many burned cars there – but in this case, we have video of the enormously devastating explosions which caused all this damage. We also have video of the aftermath.
Plasco Building, Iran
A facebook group gathered together some people who have examined the available evidence from the scene and there seem to be a few strange phenomena which suggest the building did just not "fall down due to fire,"  though the evidence is not as comprehensive and the investigations are hampered if you can't read or speak Arabic!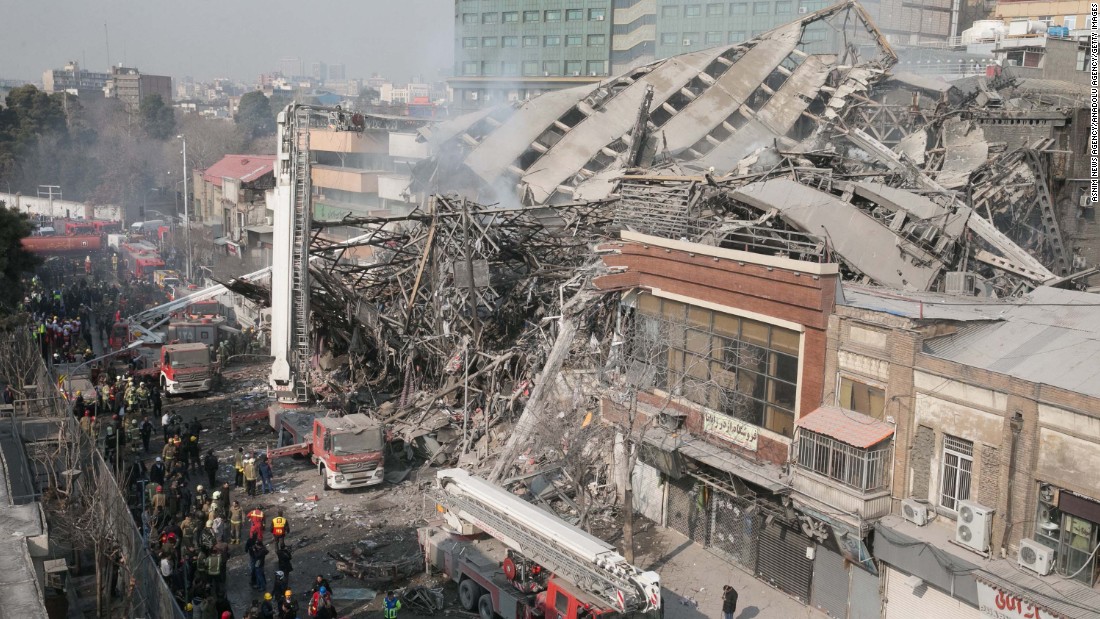 This image, for example, seems to show glowing metal, but not necessarily hot!
2014 – SCOAN Building Collapse, Lagos

 
On 09 Sep 2014, the Synagogue Church of All Nations building suddenly collapsed, killing 116 people.
This was also unusual due to the face that a C130 plane flew near or over the building twice before it collapsed.
Again, we have little other evidence from the scene to make further conclusions, however.
---