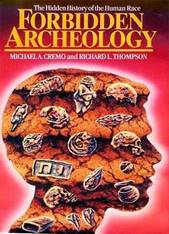 Many readers on this list will have come across this book, now 25 years old, but if you're not familiar with it, do consider checking out this scholarly work, co-authored by Richard Thompson. It documents the antiquity of modern humans – showing how remains and artifacts have been found in the last 150 years which seem to prove Homo Sapiens has been "around" far longer than the 100,000 period that Darwinists and Archaeologists claim. My interest in the work was re-kindled when a 2014 "Talk at Google" (just over 1 hour long) appeared on my YouTube viewing suggestions:
What I hadn't realised or remembered is that Cremo considers their findings against the "Vedic story of human history" – which I also find very interesting. Lloyd Pye frequently mentioned Cremo's work – not least because Cremo also includes at least one chapter on Bigfoot and Sasquatch.
I found a posting at the Internet Archive where you can download the work in several formats, although it has been "OCR'd" which has introduced some errors etc.
It can also be obtained via Amazon, of course.
Similarly, the book is available via Michael Cremo's own website: