I received the message below from someone who asked for their name for their email address and name not to be shown. I corresponded with this person a good few years ago and feel they are sending this for the right reasons.
In relation to the NZ shooting incident, I recently had another random thought "Brenton Tarrant" sounds a bit like Quentin Tarantino – who directed the Pulp Fiction and Reservoir Dogs films, that were extremely violent and gory etc.
===========================================
---
Recently I have been trying to communicate my latest discovery to as many people as I can, because it is so imminent and disturbing .
I have discovered a hidden message on Brenton Tarrant's Facebook Page, when he was allegedly killing 51 people in New Zealand.
It clearly indicates that an attack on Wimbledon Tennis Tournament is imminent.
The attack is planned for Men's Singles Final Day on Sunday 14th July and has been in the planning for at least 33 years.
The message is hidden in a photograph of Tarrant taken in Pakistan where he is wearing a hoodie on which is a logo.
By using Simple Gematria and adding 1986, I discovered 3 dates, the odds against which they would occur by chance being enormous.
I have enclosed an attachment with all the details which will enable you to easily Check the Evidence!
I am desperate to stop this attack if at all possible by spreading this information as widely as I am able.
If there is anything else that I can do then please get back to me.
Many thanks for all your work.
Best wishes
R
===============
Simple gematria
A=1, B=2, C=3, D=4,E=5,F=6,G=7,H=8,I=9,J=10,K=11,L=12,M=13,
N=14,O=15,P=16,Q=17,R=18,S=19,T=20,U=21,V=22,W=23,X=24,Y=25,Z=26.
Applied to the letters in the logo shown below, it reveals 2 dates, as well as another date from the number 1986.
ANALYSIS IS AS FOLLOWS:
SPEEDWAY = 19+16+5+5+4+23+1+25 = 98 = 14×7        = 14.7 = 14th JULY
                             1986 = 19+86 = 105 = 15×7                    = 15.7 = 15th JULY
  STH/LNDN = 19+20+8/12+14+4+14 = 91 = 13×7         = 13.7 = 13th JULY
Summary
SPEEDWAY reveals 14th JULY
1986 reveals 15th JULY
STH/LNDN reveals 13th JULY
The number 1986 in the logo translates as 19+86 = 105 = 15 x 7 = 15.7 or 15th JULY
The relevance of these dates is as follows:
13th JULY THIS YEAR is the FIRST ANNIVERSARY of PAKISTAN'S WORST EVER TERRORIST ATTACK LAST YEAR
15th JULY THIS YEAR is the FIRST ANNIVERSARY of WIMBLEDON'S MENS SINGLES FINAL LAST YEAR
As the photo of Brenton Tarrant was taken whilst he was visiting PAKISTAN, this can be discarded along with FIRST ANNIVERSARY and LAST YEAR as they are common to both dates, which leaves:
WORST EVER TERRORIST ATTACK
 WIMBLEDON MENS SINGLES FINAL
which occurs this year on the third date given by:
SPEEDWAY = 98 = 14 X 7 = 14.7 = 14TH JULY
The design of the logo as shown below, gives information that coincidentally also applies to WIMBLEDON Stadium, as it was the only venue in SOUTH LONDON where SPEEDWAY racing was due to close in 1986.
 The company responsible for the logo, SPEEDWAY  closed down sometime before 1990, but not before they had achieved considerable success due to a celebrity following by Kylie Minogue and Jason Donovan from Neighbours and also the pop group "Take That".
Not a bad start for a newly opened clothes manufacturer, ensuring that their brand was very successful and well known, at least to that generation of teenagers who watched Neighbours.
More than 20 years later in 2014 the clothing company returned and started trading again under the same name, although with different styles as described by its managing director Jonathan Judah in conversation with someone called Donna Ida who was running another clothing company specialising in denim.
The new logo is shown below: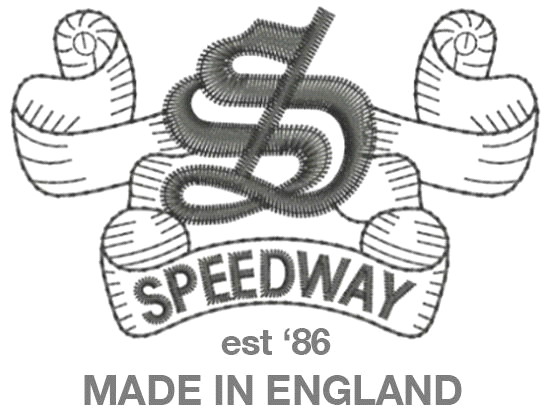 Instead of the STH/LNDN shown in the photo, the logo now referred to where the clothes were made i.e. MADE IN ENGLAND.
Considering what is already explained about the message hidden in the photo, could this latest change to the logo refer to where all this information is originating from?
Could this be a warning of a planned false flag attack which was  MADE IN ENGLAND.
Because no objection has been made about the proposed attack from those who saw the photo, it is taken to mean that we have given our tacit agreement to the attack being carried out.
This may sound crazy at first because almost nobody saw the hidden message, until you realise that you are talking about people who are willing to kill in order to further their agenda, and who therefore live by a different set of rules to the rest of us.
Ignorance of the way that they communicate with us, is not accepted by them as an excuse for not realising what they are planning to do.
It is still possible to stop this attack, but only if enough people object to it, so this information needs to be distributed far and wide as quickly as possible!