Here we go with more… Thanks to those that have sent these links and infoetc.!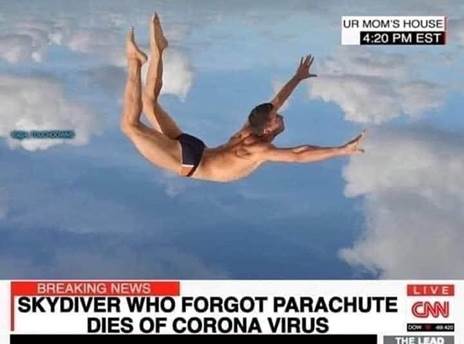 Died? It was CV, No Need to Even Test!
From Guidance issued in Minnesota (Thanks to Kathy Roberts for this (my emphasis added).  www.cdc.gov/nchs/dat…
An accurate count of the number of deaths due to COVID–19 infection, which depends in part on proper death certification, is critical to ongoing public health surveillance and response. When a death is due to COVID–19, it is likely the UCOD and thus, it should be reported on the lowest line used in Part I of the death certificate. Ideally, testing for COVID–19 should be conducted, but it is acceptable to report COVID–19 on a death certificate without this confirmation if the circumstances are compelling within a reasonable degree of certainty.
Covid-19 patients test positive after recovering
This RT story does, indeed, illustrate how unreliable the test was. "Unbeatable virus or false positive? Doctors alarmed after some Covid-19 patients test positive after recovering" – Hmm – so, there is no cure! (Just like there's no "cure" for the common cold – except, of course, a balanced diet with sufficient
After about 50 recovered patients in the city of Daegu tested positive for Covid-19 again, the Korea Centers for Disease Control and Prevention (KCDC) launched an investigation into whether they were somehow reinfected, or if the virus had made a comeback.
Dr Kaufman – A Good Interview With Jamie Icke
Dr Kaufman explains the situation very clearly. You should find this helps greatly and you could share with many – especially NHS staff and other health professionals. (76 mins) – The YouTube video was deleted (what surprise) – BitChute Version here:
Prof Dr. Stefano Montanari, Italian nano-pathologist
"Healthy people suffer absolutely no damage from this virus…. As I said, this virus is found everywhere and it stays there without absolutely causing any harm, just like the enormous number of other viruses, present but harmless. Mortality from the virus is very low and probably non-existent."
Another Empty/Quiet Hospital?
I received this from Adam.
Following on from your recent newsletter and the YouTube video on empty hospitals, I thought I'd let you know that last weekend I visited our local hospital (Arrowe Park) and it was nearly deserted, apart from staff cars and there was at least a dozen ambulances all parked up, with some of the drivers casually chatting to one another. There weren't any queues of people, the main reception was empty and I only saw one person out near the front, who was smoking and talking on her phone.
It's an absolute scam as I've said from the beginning and I believe it's all to do with crashing the world economy.
As I said to Adam, I think the claim is "Oh, yeah – we're getting ready for the mass influx of victims." So, all those that die because of cancelled operations and services will just be noted as CV deaths, right? And, of course, that part is true! They died because of being excluded from the normal service because of a fake pandemic….
5G – UK Government £65 Million Backing 20 Feb 2020
Winners of £35 million funding pot to help Britain unlock potential of 5G announced Comes as new £30 million 5G competition for sectors including creative industries launched Part of Government's continued commitment to level up infrastructure across the UK
Letter to MP David Morris
I was sent a copy by the author.
From: [Constituent]
Sent: 06 April 2020 10:38
To: david.morris.mp@parl…
Subject: Questions regarding the COVID 19 statistics and their effect on the governments decision making
Good Day David,
I hope this email finds you well during these unprecedented times. I am writing to you as a resident of [Lancashire,UK] as I have become concerned over how the statistics surrounding the COVID-19 outbreak's death rate are being counted and how this may have affected the government's decision making.  
Is there any differentiation between those who have died "of" COVID-19 and those who have died "with" COVID-19 or are they being combined to give us the death rate figures that are being reported?
What measures are the health services taking to identify whether COVID-19 was the actual cause of death as I understand that many of the cases involved underlying and chronic health issues?
These points were recently highlighted in a BBC article that I have linked below.
On a further note, the "UK Column", an independent news media outlet has also highlighted that the Italian Health Ministry upon review of its recent COVID-19 coded death certificates found that "only 12% of the death certificates have shown a direct causality from Coronavirus" and they also suggest that this same issue may be occurring here in the UK?
(You can skip to minute 14:10 in the video for this source) www.ukcolumn.org/ukc…
Bloomberg news also reported similar findings regarding Italian COVID-19 related deaths in this article  www.bloomberg.com/ne…
I also understand that the government has based a lot of its decision making from the models and estimates created by Imperial College London  however any model or estimate is only as accurate as the data being used to create it. Having briefly read the report from Imperial College www.imperial.ac.uk/m… I can see that in Section 5 it states that the data for these models is taken from the "European Centre of Disease Control". Having checked the ECDC's website I can see that it in turn takes its data from a number of different sources which can be seen following this link www.ecdc.europa.eu/e… I am assuming although it is not fully clear from their website that the ECDC is taking it's UK figures from the Department of Health and Social Care as well as the Office for National Statistics. I see that the ONS is using the code ICD-10 U07.1 COVID-19 and U07.2 COVID-19 from reported deaths as per the WHO's internationally agreed rules to measure the COVID-19 death rate. Definitions of these can be found using this link www.who.int/classifi…
Can we be sure that these codes are being accurately assigned as the actual cause of death on death certificates or are we going in the same direction as Italy? I believe this is a very important question that needs to be looked at critically as this data is being used as a basis for the models being used by Imperial College which the government is in turn using as part of a basis for instigating "lockdown" measures and the shutdown of the economy?
I thank you for your time on this matter and I look forward to your response. I understand it is a sensitive subject however I believe its vitally important that an accurate picture of the situation is created in order that the correct decisions can be made by all moving forward.
Best regards
[Your Constituent]
---
Bill Gates and the "Vaccine"
So, now, you will have to pay for your yearly "Microsoft Anti-Virus Updates" or you won't be allowed to travel anywhere….?
As for ID2020, to see it through, Microsoft has formed an alliance with four other companies, namely; Accenture, IDEO, Gavi, and the Rockefeller Foundation. The project is supported by the United Nations and has been incorporated into the UN's Sustainable Development Goals initiative.
Gates talks about this a bit more in a TED interview: www.ted.com/talks/bi…
Global Governance?
This is, again, being openly talked about – former UK PM Gordon Brown – and even the UK Queen have made comments… But it is also being talked about in New Zealand (thanks to Don for this link)
A call for a temporary one world government to tackle Covid-19 makes sense, Professor Robert Patman says.
The University of Otago international relations specialist says the call by former United Kingdom prime minister Gordon Brown cuts across the populist message that states can go it alone.  "Governments have to accept that this is a global emergency. And that a global challenge, like Covid-19, requires by definition a global response," Professor Patman told Global Insight.
Andrew Johnson Interviews Jim Willie about the Economic Background to the CV Scam
This is a 1 hr 50 min interview I did last week.
===
Look at "Recent Posts" on the website : www.checktheevidence…
Follow on Facebook: www.facebook.com/Che…
Follow on Twitter: twitter.com/check_ev…
Follow on Linked in: www.linkedin.com/in/…
Or if you don't use social media, you can use an RSS reader and use the link on the www.checktheevidence… site for RSS