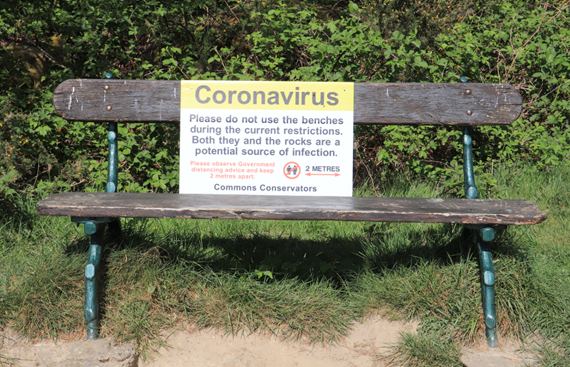 A park bench (yes, really!)in Tunbridge Wells, UK – 23rd Apr 2020
"Who controls the British Government response to Covid–19?" – Vanessa Beeley
A superb 6th May article on UK Column – showing "the tentacles" 
TAIWAN: No Lockdowns, No Closed Businesses, Non-WHO Member, and Relatively Unaffected by COVID-19
Thanks to Andrew Wheway for this link
Canada – Gates Foundation LOBBIED TRUDEAU Into Accepting MASS VACCINATION PROGRAM
Thanks to Edward Powell for the link to this significant 14 minute video about Prime Minister of Canada Justin Trudeau and the BMGF
Does Trudeau (think he's in a film/movie? He acts and dresses like he is….
I never thought I'd be linking Tucker Carlson Videos…
But here is another – Policymakers just can't stop breaking coronavirus rules – his coverage has been useful (though of course, he fails to present the full picture – focusing mainly on the political and constitutional rights issues).
Pointless Stress and Anguish of Elderly Couple Trying to Get Home
From Barry  near Manchester, UK
I am experiencing the whole range of emotions from anger through frustration, to desperation, deep sadness and upset because OUR message does not appear to be getting through and the time window is closing very, very quickly …
I am disabled to add to the problem, which I am sure makes me a very expendable 'unit', however, I will not go down with a whimper. I can only keep trying and talking to as many as possible and hope for a miracle of biblical proportion …
After a six week ordeal trying to return my parents from Alicante, Spain, finally last week (Monday) they managed to make it to Britain, they had to endure a six hour taxi journey at a cost of £500 to finally get a flight from Madrid with Iberia/BA (route-share) albeit only to London Heathrow and not Manchester from whence they had departed, I had to drive there to collect them and drive them home. Ten hours in a car and two on a jet in their mid seventies was quite an ordeal AND after being imprisoned in an apartment since Spain locked down. They had SIX flights cancelled late, Three Easy-Jet, two BA from Valencia and the carrier that departed them from Manchester, Jet2. I AM relieved to have them home safe at last but what an ordeal for them.
And on that point, I will just say, I have been around Heathrow at 6pm midweek many times in my life, collecting my parents from T5 was the most eerie of experiences, it was akin to being in a scene from one of the 24 days/weeks later movies, not ONE soul until the M25 once we pulled away from the pick up and only a single vehicle in front of me in there … ASTONISHING!
Edinburgh – Lack of CV Cases
From Robert in Scotland – is there a 5G link here too?
I would just like you to be aware that The Royal Hospital In Edinburgh has now taken down all Covid 19 protection from wards as of yesterday. The guy that informed me that they have been told week after week to prepare for massive influx of patients..which never arrived? so therefore they have now been told to dismantle all of it, as it is now clear the pandemic must be happening somewhere else (made up computer simulation numbers), as staff are bored with no patients to treat. Western General Hospital is the same, covid 19 wards are under capacity and have been since this outbreak …my friend works in the covid 19 ward told me this also. He had been asking around and only knew of one confirmed patient in his Covid 19 ward in which he works.
I have not been able to get any decent pictures of the new 5G satellites that have been popping up due to my fear of not being conspicuous enough to get a few pictures without someone reporting me to the nazi youth for committing a crime of taking a few pictures and not having a valid excuse for being outside and within 2 meters of a 5G mast with out permission and PPE lol.
When I say satellites, I mean they have been fitting the large telephone masts with what looks like two mini satellites (Kirk brae, black-ford glen road junction Edinburgh) that in my opinion which look like they are pointing towards other masts in the area (Horizontal in direction), I know this because I know where most of the masts are. They are in the middle of doing another one at Cameron toll shopping center (Newington, Edinburgh) where One of the towers has the bracket fitted for the satellite to attack to which was not there last week, they have still to fit what looks like two mini satellite dishes to them. (I will try again today to get a better picture of the mini dishes on the masts today).
Also a lot of people have complaining of having severe headaches!? I dont know what to make of this but have been asking as many people as possible if they are suffering from this? Also It was reported to me that someone had been distributing hundreds of posters on cars in the Bonnyrigg area of Midlothian and threw their letter boxes, when I got someone to text me a picture of one of them, i noticed right away It was one from your web site which made me laugh. Keep up the good work, I don't know if any of this information is any good or not but it might help to create a better picture of what is really happening.
===
Look at "Recent Posts" on the website : www.checktheevidence…
Follow on Facebook: www.facebook.com/Che…
Follow on Twitter: twitter.com/check_ev…
Follow on Linked in: www.linkedin.com/in/…
Or if you don't use social media, you can use an RSS reader and use the link on the www.checktheevidence… site for RSS