Something from one of the "Alien" Films?
UK Petition Prevent any restrictions on those who refuse a Covid-19 vaccination
I want the Government to prevent any restrictions being placed on those who refuse to have any potential Covid-19 vaccine. This includes restrictions on travel, social events, such as concerts or sports. No restrictions whatsoever. More details You cannot force someone to have a vaccination, and should not be able to coerce them into it by way of restrictions. We have to the right to assess the risk ourselves as we have done in the past.
WEF Promoting COVI-Pass
Get rid of that mask and show your immunity! Hooray! Free again!
What with all the "get tested so we can get back to normal" advertising on UK, TV radio (and in supermarkets), people are already being "heavily programmed" for this. As one reader said to me "I love the black and white 'Invasion of the body snatchers' film but I didn't want to star in it!)"
So, you want COVI-Pass or….
Proof that chloroquine let's covid attack cancer cells but not normal cells?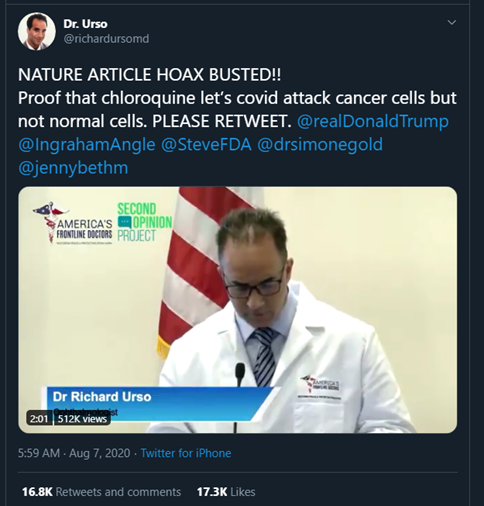 Idaho Governor Brad Little seeking immunity from civil liability
It appears some people are getting worried about the consequences of them supressing HCQ for the treatment of COVID Symptoms….
Daniel Bobinski  –  August 6, 2020
On March 18, Idaho's Governor Brad Little restricted pharmacists from dispensing hydroxychloroquine for off label use. Since that time, 217 Idahoans have died from Covid-related deaths, many of them without the choice to be treated with zinc and hydroxychloroquine. Suddenly Governor Little is calling a special session of Idaho's part-time legislature to address "liability reform during emergencies." Documents obtained by this writer show an objective for the special session is to establish immunity from civil liability.
One question being asked by Idahoans is, "Immunity from what?" They want to know if the governor is attempting to shield himself from lawsuits by families of people who died of Covid because the governor restricted off-label use of hydroxychloroquine.
Other questions heard by this writer include:
"Why did Governor Little block the use of hydroxychloroquine for off-label use the day before it became an issue at the national coronavirus press briefing?"
"Since when does a governor get to tell doctors what they can or cannot prescribe?"
A memo published March 19 by the Idaho State Board of Pharmacy reads as follows (emphasis added):
Yesterday the Board conducted an emergency meeting and approved the following language at the request of the Governor. The new Temporary Rule is effective immediately.
Medication Limitations.
No prescription for chloroquine or hydroxychloroquine may be dispensed except if all the following apply:
The prescription bears a written diagnosis from the prescriber consistent with the evidence for its use;
The prescription is limited to no more than a fourteen (14) day supply, unless the patient was previously established on the medication prior to the effective date of this rule; and
No refills may be permitted unless a new prescription is furnished.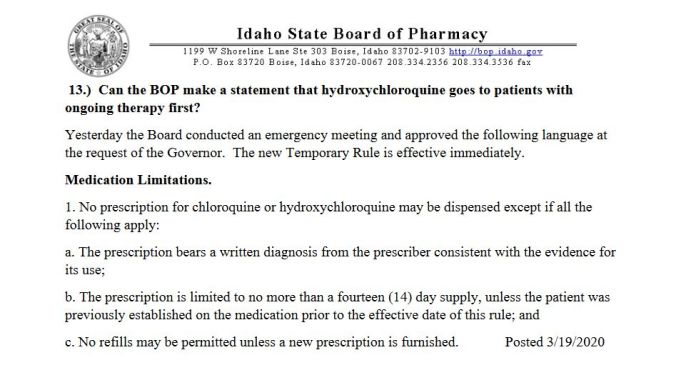 Let that sink in.
The governor had the State Board of Pharmacy meet for a special session.
At the governor's request, hydroxychloroquine was restricted – before it became controversial
UK Peoples Brexit – Court Case Update
To our wonderful supporters,
 The world wide fascism and dictatorship gets worse by the day! However, we have now started our legal action in the UK and a pre-action protocol letter was sent on Friday, 7th August. This letter to both the Health Minister, Matt Hancock, and the Transport Minister, Grant Shapps, requires a government response by 21st August. The full letter will be on the case page soon, but in the meantime here are some details:
The details of the matters being challenged
A) The Coronavirus Act 2020
B) "The Coronavirus Restrictions (No. 2) Regulations"
C) "The Coronavirus Restrictions (No. 3) Regulations"
D) "The Coronavirus International Travel Regulations"
E) "The Face Coverings Regulations" [on public transport and in shops etc.]
F) "The North of England Regulations"
We are fighting for our friends, the people living in the North of England, who have been unfairly targeted by the government. Here is the full extract from the letter:
F) "The North of England Regulations"
Regulations 5 to 7 inclusive are an unlawful interference with Article 11 of the Convention; the right to freedom of peaceful assembly and to freedom of association with others.
Regulations 8 – 11 inclusive should also be rescinded accordingly.
Further, on 31st July 2020 the Government published Guidance in the document "North of England: local restrictions" www.gov.uk/guidance/…
Within the "Contents" section of that Guidance, the following was written:
"From 31 July 2020, if you live in these parts of Greater Manchester, East Lancashire and West Yorkshire, you should follow these rules when meeting people who you do not live with. Separate guidance advises on the similar rules imposed in Leicester."
And under the section headed "Social Contact" these words appear:
"The government will pass new laws to enforce the changes to meeting people in private homes and gardens. The police will be able to take action against those that break these rules, including asking people to disperse and issuing fixed penalty notices (starting at £100 – halving to £50 if paid in the first 14 days – and doubling for subsequent offences)."
As at the date of publication of this Guidance, no such new laws had been passed.
Moreover, In a Tweet sent from his official Twitter account with over 330,000 followers, @MattHancock, on 30th July at 9.17 pm, the Health Secretary stated the following:
"The spread is largely due to households meeting and not abiding to social distancing. So from midnight tonight, people from different households will not be allowed to meet each other indoors in these areas.
Greater Manchester
Blackburn with Darwen
Burnley
Hyndburn
Pendle
Rossendale
Bradford
Calderdale
Kirklees
The same restrictions will apply to the City of Leicester"
 In fact, SI 828/2020 was not published at all until 4th August 2020. Accordingly, in issuing the Guidance on 31st July the Secretary of State acted outwith his powers contrary to the provisions of section 3 of the Statutory Instruments Act 1946 and the Guidance was ultra vires. Similarly, in publishing the said Tweet the Health Secretary personally and falsely informed the public that there would be legal restrictions on social distancing in the North West of England from that time when in fact there were none. Accordingly, the Secretary of State wilfully misconducted himself to such a degree as to amount to an abuse of the public's trust in him without reasonable excuse or justification.
In particular, by Section 3 (2) of the 1946 Act any person subject to enforcement, fixed penalty or prosecution for a purported breach of the non-existent Regulations prior to 5th August 2020 has an absolute defence to the same.
SI 828/2020 was not made until 9 am on 4th August 2020 or laid before Parliament until 12.30 pm that same day. Accordingly, the Secretary of State for Health wrongly-exercised his discretion under Section 45R of the 1984 Act in making the instrument without a draft having been laid before and approved by a resolution of each House of Parliament when there was no urgency to do so.
To our friends and supporters around the world, we are fighting this war against tyranny for you too and this is just the the start of what we are planning to do. Everyone, if you have not already seen it, please watch David Icke's video and share it with everyone you know:  davidicke.com/2020/0… 
 It is so important that people get to know about our legal action and it would be amazing if you could:
 ·        Send this email to everyone you know and ask them to support our case to end this tyranny and insanity and,
·       Share our link on Facebook: www.crowdjustice.com….
·       Also please donate anything you can to our campaign which is for all our futures.  
Thank you again for your help in our fight against Government tyranny and oppression. Together we can break down 'Gates of Hell', defeat the Dictators and take our lives and freedom back! 
Best wishes,
Moderna CMO sells shares as final vaccine trials begin, raising concerns
Do some people know that it's going to be a "bad thing…" ?
CEO Stéphane Bancel has also cashed out on shares in recent months.
By JERUSALEM POST STAFF   AUGUST 2, 2020 04:36
FILE PHOTO: A sign marks the headquarters of Moderna Therapeutics, which is developing a vaccine against the coronavirus disease (COVID-19), in Cambridge, Massachusetts, U.S., May 18, 2020 (photo credit: BRIAN SNYDER/REUTERS)
FILE PHOTO: A sign marks the headquarters of Moderna Therapeutics, which is developing a vaccine against the coronavirus disease (COVID-19), in Cambridge, Massachusetts, U.S., May 18, 2020
(photo credit: BRIAN SNYDER/REUTERS)
As Moderna begins a late-stage trial of its coronavirus vaccine, chief medical officer Tal Zaks sold almost all his shares in the company, according to a report filed to the US Securities and Exchange Commission, raising concerns about his trust in the vaccine, according to Globes.
While Zaks and other Moderna officials have already been cashing out on shares for the past few months, they've increased the sales of shares since reports were published on a successful test of the vaccine earlier in July.
In general, when stakeholders believe in their product, they increase their shares in order to increase confidence in the market. The move by Moderna officials to do the opposite raised concerns about the company, especially considering that Zaks, who sold almost all of his shares, is on the scientific side of the company, according to Globes.
Zaks still has tens of thousands of dollars worth of options in the company.
CEO Stéphane Bancel has also cashed out on shares in recent months.
Share sales by CEO Stéphane Bancel, his children's' trust and companies he owns amount to about $21 million between January 1 and June 26.
 Seven executive-compensation experts told Reuters that share liquidations by Moderna executives show the incentives biotech executives have to highlight development milestones, even for drugs that often don't get approved or sold. Such optimistic statements could cause investors to overpay for company shares or create false hope concerning a possible coronavirus vaccine.
"This may be their one shot at making a boatload of money if the vaccine doesn't work out," said Jesse Fried, a Harvard Law School professor who wrote a book about executive compensation, adding that Moderna's chiefs have a powerful motivation to "keep the stock price up."
Reuters has not found evidence that Bancel, Zaks or Moderna have exaggerated the company's vaccine progress.
Uncertainty remains concerning how effective a vaccine will be in fighting the coronavirus, as it is still unclear how long one can remain immune to the virus.
Moderna launched a 30,000-subject trial of a COVID-19 vaccine that could clear the way for regulatory approval and widespread use by the end of this year, the company said last week.
The trial is one of the first late-stage studies supported by the Trump administration's effort to speed development of measures against the novel coronavirus, adding to hope that an effective vaccine will help end the pandemic.
Dr Judy Mikovitz on Masks (May 2020 Video with Dr Mercola)
Dr Mikovitz explains how masks could make you even more ill…
Quebec – More Fake News?
Thanks to Tom for this news item…
Also, something I spotted in mainstream medias in Quebec (Image attached): In March 2020, La Presse made an article about a girl that had covid at only 28 (they like to show that younger people can get it). In this article, it says that she knew she was sick because she started having trouble controlling her asthma. That was in March.  Then on August 3rd 2020, that girl again popped up, this time in Le Journal de Montréal. In this article this time, they precise that she was in good health before covid, running everyday, playing hockey, and that she had NO KNOWN DISEASE. They could have omit the fact that she has asthma, that would have been poor journalism without enough information, but they take the time to precise that she had "no known illness". To me that means they asked her, they made research, whatever but they checked the fact before writing this. And you don't have a lot of research to do when it's written she has asthma in an other article, of a journal maybe owned by the same corp . 😀  Be scared young and healthy people, wear your mask because it can get you too!
Bank Of England Partners With Accenture For New Payment System
Thanks to Bob for this link. Accenture has been mentioned by some researchers as being involved in the establishment of the "Technocracy" which is being used to forward Agenda 21 goals. Along with "track and trace," there are obviously moves to implement more digital / cashless payments systems and link them to your identity etc – so that, in theory, you can be excluded from the system and prevented from accessing services or obtaining goods.
The Bank of England is the most powerful Central Bank in the world, other than the Federal Reserve in the U.S. BOE is driving toward Digital Currency (CBDC) and the latest target date is 2025. BOE's partnership with Accenture is a Technocrat marriage made in Hades. ⁃ TN Editor
Last week it was announced by the Bank of England that they had appointed Accenture, a professional services company, as their 'Technology Delivery Partner' for the renewal of the UK's Real Time Gross Settlement (RTGS) payment system. The news was in keeping with the BOE's timeline of deciding upon a tech partner by the summer of 2020.
Before looking at the wider implications of Accenture's partnership with the bank, it is worthwhile noting a couple of things about the company.
First, aside from their new found relationship with the BOE, Accenture is a Strategic Partner of the World Economic Forum and has been for twenty years. This is the same WEF that is pushing vociferously the concept of a 'Great Reset' in the areas of the economy, society, geopolitics, the environment and technology.
Second, Accenture provide R3 with IT solutions. R3 are an 'enterprise blockchain software firm' that run a distributed ledger based platform called 'Corda'. This is relevant because in 2018, R3 were among several other institutions that took part in a BOE led 'RTGS Renewal Programme Proof of Concept'. The point of the concept was to see if the systems of R3 and their counterparts could connect to the renewed RTGS. The end result showed that they could.
Commenting on Accenture's partnership with the BOE, Victoria Cleland (Executive Director of Banking, Payments and Innovation) said that it represented 'a key milestone in our ambitious and exciting Programme to renew RTGS.' Stressing that the RTGS Renewal Programme is a key priority of the BOE, Cleland added that 'the renewed RTGS service will be designed not only to benefit everyone in the country who makes payments, but to keep the UK at the leading edge of payments innovation.'
===
Look at "Recent Posts" on the website : www.checktheevidence…
Follow on Facebook: www.facebook.com/Che…
Follow on Twitter: twitter.com/check_ev…
Follow on Linked in: www.linkedin.com/in/…
Or if you don't use social media, you can use an RSS reader and use the link on the www.checktheevidence… site for RSS