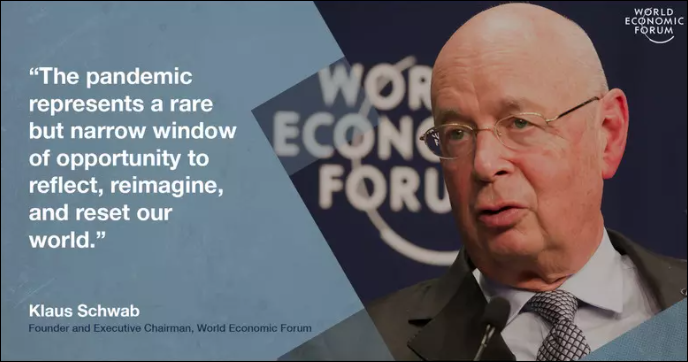 'Great Reset' in Davos at the forefront of a 'great deception' in the free world
Powerful individuals, groups and large global organisations are at the forefront of a plan labeled 'The Great Reset' which intends to use the fear generated by the coronavirus to reshape the world and achieve net zero emissions says Sky News host Rowan Dean.
"The Australian taxpayer spends a fortune sending top politicians and public servants year in year out in luxury style to attend the World Economic Forum in Davos to help map out global economic structures".
However, Mr Dean pointed out behind its lavish exterior the World Economic Forum is working with the UN, IMF and other high-profile globalist organisations to introduce online activist movements and compliant local and national governments through a vast network of connected corporations.
"It is a global commitment they have made to use the panic and fear generated by the corona virus as a means to reshape all our economies and laws and move to a new form of capitalism that focusses on net zero emissions".
"To use all the tools of COVID to tackle climate change".
Mr Dean said "if implemented successfully, The Great Reset will undeniably and deliberately have extreme and possibly dire repercussions".
Tucker Carlson Talks Archbishop Viganò and Great Reset
Are we seeing a new situation arising? One mainstream media outlet played off against another…? It seems Murdoch-owned outlets are covering "the Great Reset".
Was This All Planned Long Ago?
For those of us that have been researching "this stuff" for a while, we would probably answer that question thus: "Yes, this seems to have been planned quite a long time ago." Here is some indication of that:
This is a posting, originally from 2003, which discusses a recording made of Dr. Lawrence Dunegan speaking in 1988, about a meeting he attended in 1969!
Tape I
IS THERE A POWER, A FORCE OR A GROUP OF MEN ORGANIZING AND REDIRECTING CHANGE?
"EVERYTHING IS IN PLACE AND NOBODY CAN STOP US NOW…"
"PEOPLE WILL HAVE TO GET USED TO CHANGE…"
POPULATION CONTROLPERMISSION TO HAVE BABIES
REDIRECTING THE PURPOSE OF SEX – SEX WITHOUT REPRODUCTION AND REPRODUCTION WITHOUT SEX
CONTRACEPTION UNIVERSALLY AVAILABLE TO ALL
SEX EDUCATION AS A TOOL OF WORLD GOVERNMENT
TAX FUNDED ABORTION AS POPULATION CONTROL
ENCOURAGING HOMOSEXUALITY … ANYTHING GOES – HOMOSEXUALITY ALSO WAS TO BE ENCOURAGED.
FAMILIES TO DIMINISH IN IMPORTANCE
EUTHANASIA AND THE "DEMISE PILL"
LIMITING ACCESS TO AFFORDABLE MEDICAL CARE MAKES ELIMINATING ELDERLY EASIER
PLANNING THE CONTROL OVER MEDICINE
ELIMINATION OF PRIVATE DOCTORS
NEW DIFFICULT TO DIAGNOSE AND UNTREATABLE DISEASES
SUPPRESSING CANCER CURES AS A MEANS OF POPULATION CONTROL
INDUCING HEART ATTACKS AS A FORM OF ASSASSINATION
EDUCATION AS A TOOL FOR ACCELERATING THE ONSET OF PUBERTY AND EVOLUTION
BLENDING ALL RELIGIONS…THE OLD RELIGIONS WILL HAVE TO GO
CHANGING THE BIBLE THROUGH REVISIONS OF KEY WORDS
RESTRUCTURING EDUCATION AS A TOOL OF INDOCTRINATION
MORE TIME IN SCHOOLS, BUT THEY "WOULDN'T LEARN ANYTHING."
CONTROLLING WHO HAS ACCESS TO INFORMATION
SCHOOLS AS THE HUB OF THE COMMUNITY
"SOME BOOKS WOULD JUST DISAPPEAR FROM THE LIBRARIES…"
THE ENCOURAGEMENT OF DRUG ABUSE TO CREATE A JUNGLE ATMOSPHERE
THE NEED FOR MORE JAILS, AND USING HOSPITALS AS JAILS
 Similar ground is covered in a 1967 talk by Myron C Fagan.
Cyber War Declared in U.S. and UK to Quash Vaccine Hesitancy as Nations Prepare for Mass Inoculations
News organizations and journalists who raise legitimate concerns about Operation Warp Speed will be de-platformed to make way for the "required" saturation of pro-vaccine messaging across the English-speaking media landscape. 
In just the past week, the national-security states of the U.S. and UK have discreetly let it be known that the cyber tools and online tactics previously designed for use in the post-9/11 "war on terror" are now being repurposed for use against information sources promoting "vaccine hesitancy" and information related to COVID-19 that runs counter to their state narratives.
Laurence Fox: Talk Radio – The government are ruling by fear  
Are We Being Told the Truth About COVID-19? | Prof. Sucharit Bhakdi
Professor Bhakdi is a Thai-German specialist in microbiology and co-author of Corona, False Alarm?: Facts and Figures. An excellent 1-hour interview.
Dr. Roger Hodkinson to Council Chambers – City of Edmonton
From:
>> Mr. Chairman, this is Dr. Hodkinson. I want you to know I'm standing by. >> the chair: okay, well, we would love to hear from you. The floor is yours.
>> thank you very much. And I do appreciate the opportunity to address you on this very important matter. I'm going to say is lay language and blunt much it's counter narrative so you don't immediately think I'm a quack. I'm going to briefly outline my credentials so that you can understand where I'm coming from
In terms of its knowledge base in all of this. I'm a medical specialist in pathologist which includes virology. I trained at Cambridge University in the UK and the expert in the pathology section of the medical association. As previously an assistant professor in the faculty of medicine doing a lot of teaching. I was a chairman of the royal college of physicians of Canada examination committee in pathology in Ottawa. But more to the point I'm currently the chairman of a biotechnology company in North Carolina selling the covid-19 test and on that you might say I know a little bit about all of this.
The bottom line is simply this… There is utterly unfounded public hysteria driven by the media and politicians. It's outrageous. This is the greatest hoax ever perpetrated on an unsuspecting public.
There is absolutely nothing that can be done to contain this virus. Other than protecting more vulnerable people. It should be known as nothing more than a bad flu season. This is not Ebola. It's not sars. It's politics playing medicine and that's a very dangerous game. There's no action of any kind needed other than what happened last year, we stayed home, we took chicken noodle soup, but didn't visit granny and we decided when we would return to work. We didn't need anyone to tell us.
Masks are utterly useless. There is no evidence base for their effectiveness whatsoever. Paper masks and fabric masks are simply virtue signalling. They're not even effective most of the time. It's utterly ridiculous. Seeing these unfortunate uneducated people and I'm not saying that in — [indiscernible] sense, seeing these people walk around like lemmings without any knowledge base to put the mask on their face. Social distancing is also useless because COVID-19 is spread by aerosols. Which travel 30m or so before landing. Enclosures have had such terrible unintended consequences. Everywhere should be open tomorrow, as was stated in the great Barrington declaration that I circulated prior to this meeting
And a word on testing, I do want to emphasize that only the business of testing for COVID-19, I do want to emphasize that positive test results do not underline a clinical infection much it's simply driving public hysteria and all testing should stop unless you're presenting to hospital with some respiratory problem. All that should be done is to protect the vulnerable and to give them all in the nursing home, give them all 3 to 5,000 units of vitamin d every day which has been shown to radically reduce the likely hood of infection. Using the province's own statistics, the risk of death under 65 in this province is one in 300,000. One in 300,000.
You've got to get a grip on this. The scale of the response that you're undertaking is utterly ridiculous given the consequences of acting in a way that you're proposing. All kinds of suicides, business closures, funerals, he weddings, et cetera, et cetera, it's simply outrageous. It's just another bad flu. And you've got to get your minds around that. Let people make their own decisions.
You should be totally out of the business of medicine; you're being led down the garden path by the chief medical officer of health in this province. I am absolutely outraged that this has reached this level. It should all stop tomorrow. Thank you very much.
>> well, thank you for that. Again, hopefully all layers of government are listening. We definitely appreciate everything that you just had to say.
             Here is Dr. Roger Hodkinson on MutantDx Liquid Biopsy www.youtube.com/watc…
Who'll grab the steering wheel from out-of-control Johnson?
By Daniel Miller, November 15, 2020
WHEN the history of the West's collapse into collective madness and convergent opportunism is finally written, one of the most psychologically disturbing chapters will consider the career of Boris Johnson. How did the political culture of a great nation degrade to the extent that it promoted such a man to a leader? And how long will this broken personality continue to explode his psychodrama on a national scale?
This "Flu" is Not Much Different to Previous Years
 From Linda
This report is from mid-2019 and has graphs showing the difference in the graph for 2019 compared to previous years, questioning the unusually high number of early flu cases in 2019
This report is about the recent escalation in the numbers of flu cases in Australia, especially 2017 & 2019, it is interesting to read how the specialists are at odds to explain the cause. 
This report shows graphs for last 5 year average and 2020 by cause of death, e.g. respiratory diseases include such as pneumonia, influenza, and chronic lower respiratory diseases where there is an interesting cross over of the graph lines around the end of April.  The obvious 2020 issue is mentioned at the beginning but the deaths are not acknowledged in the graphs.  The site also allows graph/data downloads.
The last report is the closest to the one I saw which I thought was on a site for worldwide statistics but not WHO, it had an option to filter by country but it's not coming up when I search.  
It is time to call out the Scottish Government's Voodoo Data
by Linda Holt Tuesday 17, November, 2020
WHAT IS WRONG with Scotland? For many ThinkScotland readers, the short answer will be nationalism and/or the SNP. But even if the SNP weren't running Scotland, would we really be alright? Would the rest of our politicians, journalists, academics, think tanks and the rest of civil society step up to the mark? During the last year, commentators like John Maclaren and Robin McAlpine have pointed to the relative weakness of a critical public sphere in Scotland for addressing both the dominance of the SNP and the comparative decline in measures of well-being.
The immediate reason for my question, though, is my enormous dismay at the lack of informed public criticism of the Scottish Government's handling of Covid-19. Back in August, when a piece I wrote for ThinkScotland prompted this blog's highest-ever hits and a flurry of appreciative mail, I thought the lack of resistance to Nicola Sturgeon's Covid policies was down to the government successfully engineering a sense of mortal fear in the populace. 
"Covid is coming" – Colin Steele
 thehighwire.com/vide… Colin Steele (comments section)
Covid is coming
Or so we are told
Worse than the flu?
Or merely a cold?
They took all our right's
We are no longer free
The world is blind
How many can see?
They'll mandate a vaccine
And say that it's safe
Its already been told
By a certain Bill Gates
So how will they force it
Now that it's here?
Maybe the army?
Or simply more fear?
And what of the vaccine?
The mark of the beast?
Or is it a chip to see
Where you've been?
Maybe a poison
How many will die?
Big pharma one problem
All part of the lie
The state own your body
The second you die
It happened this year
But who does ask why?
Politicians are whores
Who sell they're souls
But who are they're masters?
And what are their goals?
The queen, the pope
Or even the masons?
Who are we kidding
They all work for Satan
===
Look at "Recent Posts" on the website : www.checktheevidence…
Follow on Facebook: www.facebook.com/Che…
Follow on Twitter: twitter.com/check_ev…
Follow on Linked in: www.linkedin.com/in/…
Or if you don't use social media, you can use an RSS reader and use the link on the www.checktheevidence… site for RSS