Dublin – Were "Secret Police" Spying on Protestors?
Watch this 3-minute report to see and hear about the tactics being used. Every town and city has a ready supply of thugs and cowards who, willingly, want to police – and even assault – peaceful demonstrators.
Dr. Andrew Kaufman Interview – Virus Isolation, Terrain Theory & COVID-19
Backup: www.bitchute.com/vid…
A Good  5 minute "street" video – "COVID is a Scam" – Discuss
Lochie Kavanagh, the Byron Bay Edition
People are waking up to the mother of all scams. Well, at least in Australia.
WHO – Changes their Discussion of  Achieving of Herd Immunity – Jun / Dec 2020
So, once again, we have an "analogue" for the ministry of truth. Thanks to Christian for this: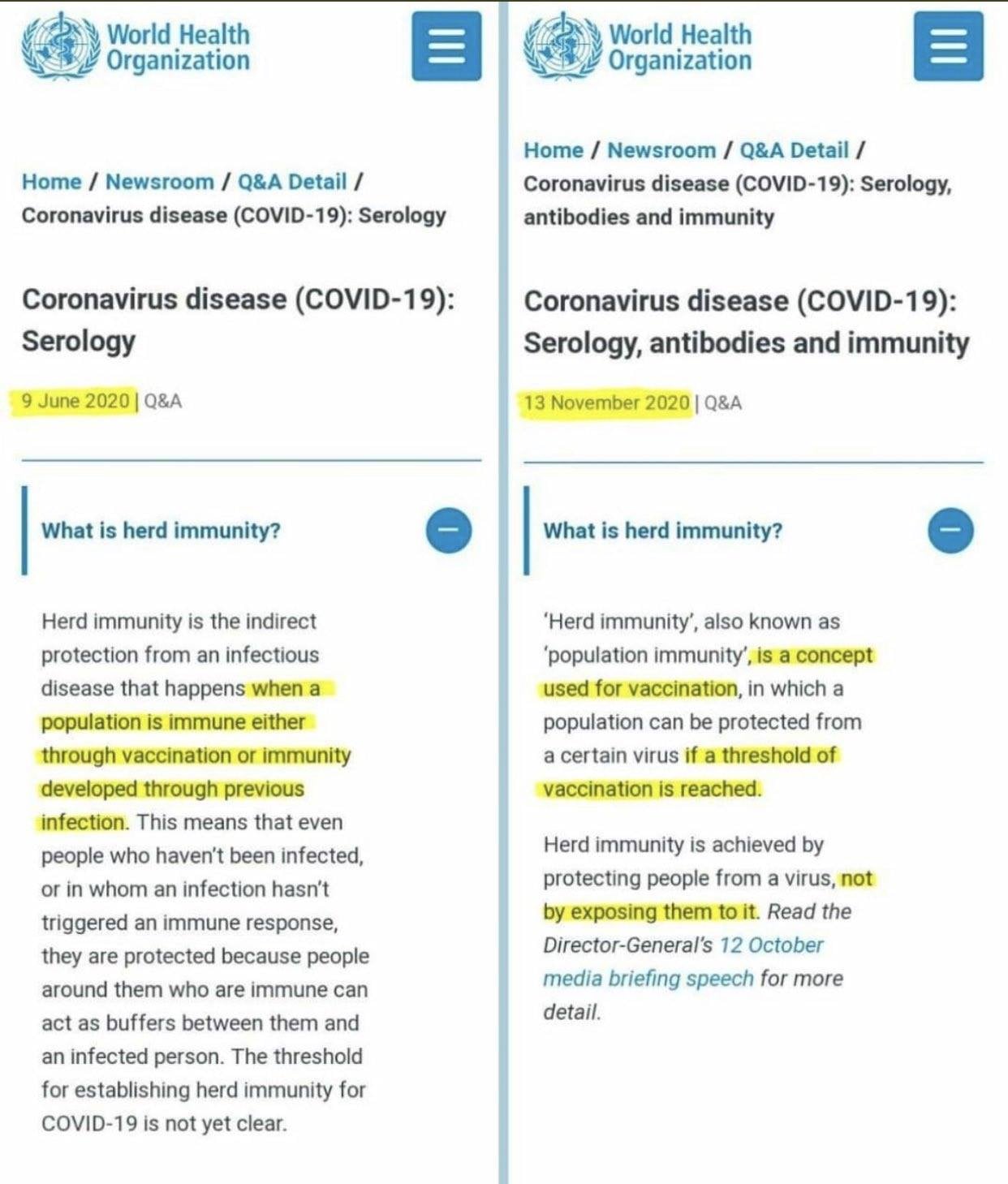 Relevant links: web.archive.org/web/…
and
www.who.int/news-roo… or see web.archive.org/web/… (in case it changes again).
You have to scroll down and open the "Herd Immunity" branch (it takes a few seconds to load from the web archive).
It's interesting to find articles that are "self critical" of the fluid definitions shown above.
But, of course, this has all been ignored since Feb 2020 – and the brainwashing, coercion and social engineering has stopped nearly all the criticism and analysis which was apparent in the 2011 paper linked above. Related:
Doctor Mocks Anti-Vaxxers While Getting Experimental COVID Jab – Dies Days Later (Video)
It's sad to say, but some people just have to learn the hard way.  A polish doctor died just days after taking the experimental COVID injection. The cause of death, we are told, was heart failure.  However, what's most ironic is that he recorded a video of his injection while mocking anti-vaxxers.
Demonstrators burn masks in front of the Idaho state Capitol
Decoding Davos: The Global Endgame
46-minute documentary about the globalists plan to control everything, using COVID19 as the biggest excuse.
CDC – Zombie Preparedness (Yes, Really!)
Amazing what you can find on govt websites sometimes:
"History Debunked." – More People Dies in 2020 than in Any Other Year, right?
The title on this is deliberate:
The first comment reads (aptly) "Coronavirus has killed all my friends, they're still alive, but they have become pathetic versions of themselves. The only benefit of this situation is that it's shown the men from the boys. 😙"
===
Look at "Recent Posts" on the website : www.checktheevidence…
Follow on Facebook: www.facebook.com/Che…
Follow on Twitter: twitter.com/check_ev…
Follow on Linked in: www.linkedin.com/in/…
Or if you don't use social media, you can use an RSS reader and use the link on the www.checktheevidence… site for RSS