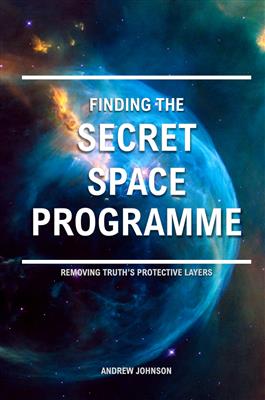 The "Space Age" began in 1957 and since then, we are told, missions have studied all the planets in the Solar System. Most people believe that one of the greatest technological achievements happened in 1969, when Neil Armstrong allegedly walked on the surface of the Moon. The last Apollo mission ended in 1972 and later manned space missions never travelled beyond low earth orbit, despite enormous advances in many technologies.
This book considers the works of Dr Paul La Violette and Defence Journalist Nick Cook regarding antigravity research in the aerospace industry and elsewhere. It analyses the statements of certain whistleblowers, who claim to have worked on covert propulsion and energy technology programmes. The Apollo programme and its background are also studied in some depth, along with claims and statements made by some of the Apollo astronauts.
Is it true that exotic propulsion technologies have been successfully developed and deployed, as part of a secret space programme – and comprehensively hidden from public view, using sophisticated methods?
After more than 14 years of ongoing research, collected together here, probably for the first time anywhere, are referenced images, quotes analysis and commentary. A study of this evidence should help us to remove what Neil Armstrong referred to as "Truth's Protective Layers."
See below the video for links to available formats.

CLICK IMAGES BELOW TO ORDER
Paperback Version
Click below to order paperback (Signed or Plain) from ChecktheEvidence.
eBook Version
For Volume Orders contact: ad.johnson@ntlworld….
Book Details
6″ x 9″ 
(15.24 x 22.86 cm) 
Black & White on White paper
376 pages
ISBN-13:
 978-1981283705 
(CreateSpace-Assigned)
ISBN-10:
 1981283706
BISAC:
 Technology & Engineering / General
Reviews
"stevenroach2" 5.0 out of 5 stars
Andrew Johnson presents the best evidence that points to hidden technology that makes known … 15 June 2018 Format: Paperback Andrew Johnson presents the best evidence that points to hidden technology that makes known space programmes little more than cover story operations. He presents and gives extensive comment and analysis on enough evidence, that if the reader comes away still in doubt of the authors conclusions, then we must hope that reader would never get called to Jury service. Most of the evidence presented is not commonly known about, as it has received little to no attention anywhere near anything in the mainstream media sphere. Therefore the reader would have to already have somewhat of an interest or curiosity in the subject to have come across or understand it fully along with some of the deceptions involved. A book everyone should read to understand one of the biggest lies we all live under.
---