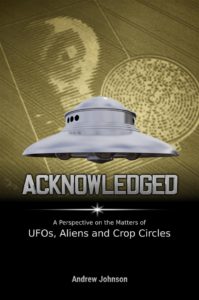 Have aliens really visited us? What do they look like? Where do they come from and why are they here? Have they given us messages in Crop Circles? What historical evidence is there that aliens have been involved in the evolution or creation of humans? Is there a UFO/Alien cover up? If so, how is it kept in place?
This book embodies an attempt to give some answers to the questions above, based on a compilation and distillation of evidence collected during about 15 years of ongoing research. Although this book is not written for people who are new to these topics, "newbies" and seasoned researchers alike should find something useful herein. Detailed information and over 900 references aim to give the reader a perspective on alien intervention, alien abduction, alien contact, landings and crashes. The involvement of military and intelligence interests and their influence on the so-called "Disclosure" movement is also considered. Also included is a critical look at certain prominent UFO researchers, who seem to be helping to keep certain truths obscured or marginalised. The second part of the book studies various facets of the Crop Circle Phenomenon in a similar way to part one.
Although most or all of the information in this book has been written about elsewhere, this work attempts a synthesis of reasoned analysis which, it is hoped, will enlighten the reader and give them a new understanding about why any official type of "Disclosure" is unlikely to happen, as powerful interests need to keep their crimes covered up.
(There is a little overlap between this book and Finding the Secret Space Programme – in that there are a couple of UFO accounts/stories in that book which might seem better placed in this one – e.g. the Bob Lazar story and the Maslin Beach story.)
Book details
Paperback: 413 pages
Publisher: Independently published (7 Mar. 2019)
Language: English
ISBN-10: 1726690911
ISBN-13: 978-1726690911
Product Dimensions: 15.2 x 2.4 x 22.9 cm
Cover Design: Peter Lomas
See below for Table of Contents
Ordering:
 
Paperback
PDF / eBook

CheckTheEvidence Website

 

Amazon
Lulu
Barns and Noble
Rakuten Kobo
 
Table of Contents
Preface and Introduction 9
Part I UFOs and Aliens 11
1. A Developing Interest and Four Sightings 12
2. UFO/ET Perceptions 18
3. UFO/ETs in Songs and Cinema 34
4. UFOs? Aliens? Do Me a Favour, Ha! 48
5. UFO/ET Landings and Crashes 60
6. Some Video Evidence and Some Powerful Witness Testimony 81
7. Wilbert B Smith – from Sceptic to Contactee 99
8. More Contactees 115
9. Abductions and Abductees 136
10. The Interrupted Journey 138
11. Taken Up? 144
12. Leah Haley and Stan Romanek 158
13. Budd Hopkins and A Bizarre New York City Abduction Case 170
14. Analysing Alien Abductions 177
15. AFB Landings and Presidential Close Encounters? 190
16. DUMBs, Dulce and Cattle Mutilations 199
17. Ancient Aliens (and Ancient Civilisations) 214
18. Robert Temple – The Sirius Mystery 218
19. Zechariah Sitchin, The Twelfth Planet and the Creation of Humans 228
20. Alien Races…? Alien Faces…? 249
21. The Starchild Skull and Lloyd Pye 263
22. Perception Management of the Starchild Skull Evidence 270
23. Dr. Steven Greer – "Going Critical" 286
24. Limited Hangouts? Disinformation? 305
Part II A Mystery in the Fields 319
25. Introduction and Overview of Crop Formations 320
26. Some Researchers and Some Research 333
27. Plankers and Stompers 343
28. Phenomena Associated with Crop Formation Appearance 350
29. Microwave Energy, Operation Blackbird, and Crop Formations 364
30. Crop Formation – Symbolism and Messages 368
31. Energy Effects and Residual Effects in Crop Formations and Elsewhere 388
32. Crop Circle Technology – and Cover Up 399
33. Crop Circle Conclusions 406
Part III Some Final Thoughts 409
34. Discovery, not Disclosure… 410
Reviews
7 April 2019
This is a magnificent book. My opinion of course, but I have followed Andrew for many years and he is as straight as they come. It is hard to trust anyone, and I am sure Andrew would say not to trust him, but to rather 'check the evidence' as his website is named.

His style has developed so well, the pages just flew by. There is a lot of ground covered here and he attempts to link all the subject areas within the book, and he always encourages everyone to do their own research and to think clearly for themselves. Andrew goes for more than superficial documentation, he tries to find/suggest motivations and ulterior motives of key players controlling data and how suddenly main players in the alternative fields become 'corrupted'. Have aliens got to them? Or have dark government forces performed a mind control job on them?

He details out the case of the Starchild skull and how after the sad demise of Lloyd Pye, people were changing the history of events in sometimes small ways but it all adds up to confuse the public and put doubts in our minds of important researchers, in this case Lloyd Pye.

Andrew also lets the reader know of his bemusement of how very intelligent people, who specialise in certain areas, do not look outside their areas of expertise and when they do, they disappointingly toe the official stories and not question it, despite being given the data to analyse. This puzzles me too, what is going on in the world?

Are we all being slowly brainwashed?

For me I found new areas of interest and I am fairly well up on these things, I particularly enjoyed the abduction section as I never felt it was provable and you have to make so many leaps of faith, but it was very interesting.

Thank you Andrew, it was a wonderfully entertaining book. Please keep writing.
===============
I've followed Andrew Johnson's research since watching him on Richard D Hall's (RichPlanet TV) excellent documentary series where he's been an occasional guest contributor to the programme. Johnson, now very much an established researcher in all matters to do with 9/11, Climate Change & Global Warming, Secret Space Programmes and the Secrets in our Solar System, comes across as an affable, honest, down to earth Englishman with absolutely compelling information, facts and analysis to impart.
His latest book: Acknowledged, (also available as an interactive Pdf from Johnson's own website – checktheevidence) is an excellent addition to your library covering a compilation of research into the very complex subject of UFOs, Aliens and Crop Circle phenomena. Although, Johnson states this is not a book for "beginners" it is essential down-to-earth reading for anyone with an interest in the subject matter and even if you are a beginner, in my opinion there's never a better time to start your own journey or 'awakening' into what's really out there, or here, for that matter. Acknowledged is an excellent way to start your journey.
For me personally, Acknowledged read a bit like a 'thriller' albeit a non-fiction one and I was completely gripped by the exposure of true discovery and numerous witness testimonies. Its meticulously researched content and huge number of author's notes & references is vast, hence why the interactive Pdf is such a useful companion to holding the actual book.
The author's analysis and conclusions are compelling, startling, poignant even, whereby the reader is left in absolutely no doubt whatsoever – there is something 'out there' and that we have never been 'alone'. That space craft from other worlds containing non-human beings have been visiting earth and interacting with us human beings for thousands of years. That control of all types of energy, including conscious and life, has been developed, even weaponised, to a very high degree by those running the planet and have certainly been used to create 'some' Crop Formations. that a Secret Space Programme exists, and that the Apollo Missions are a multi-billion-dollar hoax. And finally – Darwin's Theory of Evolution is incorrect, as ET intervention has almost certainly contributed to the development of homo sapiens.
Andrew Johnson is one of the very few – no nonsense, evidence based alternative researchers whose objective is to tell the truth, dispel disinformation, expose dishonest media coverage and establishment lies, whilst ruthlessly exposing the gatekeepers on earth – by removing "truth's protective layers". It's for these reasons, I consider Johnson to be one of the most important researchers of our time and I think his books should be on every bookshelf and coffee table across Planet Earth and beyond!
If you're anything like me, you will never be the same after reading Acknowledged, but hopefully, you'll have both eyes firmly wide open!
---
===
John Mac
I stumbled across Andrew Johnson during the early part of last year and quite frankly the man has changed my life. By reading his books and visiting his website (   
www.checktheevidence…
) I have been able to educate myself in world defining events far beyond what I ever imagined would be possible.
ACKNOWLEDGED is another AJ masterpiece and if anyone wants an insight into what is happening globally then I urge you to read this book and don't stop there simply read anything else he has published. 
Andrew has an extraordinary ability to research and understand even the most darkest of the planets best kept secrets and then be able to reveal them in a manner which enables everyone reading / watching / listening to fully comprehend. Not an easy task bearing in mind how deep he has had to dig to uncover to the truth. Subsequently he urges you not to take his word for it but to research it all for yourself and draw your own conclusion. 
What I found quite remarkable was his ability to link all of the separate investigations he has carried out in a manner which subsequently take you to a place where there is one common denominator and i will leave that to other readers to uncover that for themselves. 
His research is incredible and he lists his numerous points of reference for the reader to investigate for themselves. These points of reference can then take you to other places where you can further educate yourself on matters which you may not have considered that important beforehand. 
It may take time but I do believe the work Andrew Johnson will one day be looked back upon as extremely important particularly IF humanity is able to take back control of its destiny. If that time does come then it will partly be due to the work that AJ and others of the same ilk have put in to help the majority comprehend what is actually going on. 
What can we do as readers ? Recommend his work to as many others as we can. 
3-hour video series on the book
---
Reference List